The Top 10 Best Lake Tahoe Beaches
Lake Tahoe is the second deepest lake in the U.S. with over 70 miles of shoreline winding around its clear, ultra-blue waters. Most of the Tahoe shoreline is rugged granite boulders and cliffs, but the lake also has several public beaches great for swimming, picnics, BBQs, or just lying around in the Sierra sun. Some beaches have parking fees associated with them, and most don't allow dogs. With that, this Top 10 list should help you find the best beaches to suit your needs for summer activities.
Photos byNevada State Parks, Secret Cove, Edward Wade, and Francesco Meschia.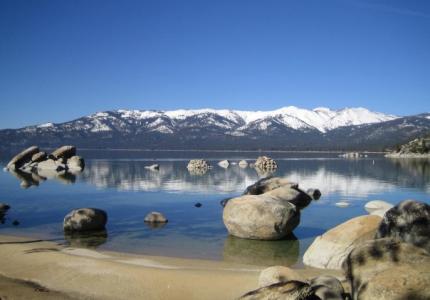 1. Sand Harbor Beach - North Shore
On the East (Nevada) side of the lake lies the 55 acres of Sand Harbor. As one of the best beaches on the lake, this area has everything you expect including a visitor center, picnic tables, trees and wide expanses of sunny sand, swimming areas (of course) and even a beach and cove dedicated to SCUBA divers. The park also has a boat launch and tow vehicle parking. Sand Harbor is also the location of the Lake Tahoe Shakespeare Festival each summer. To Be...?
Hot Tip: Get to Sand Harbor early on summer weekends to get a good parking spot. If you walk along the boardwalk in the middle section of the park, look down toward the water where you might find some hidden beaches that appear when the lake level is low.
Contact: 775 831-0494 (8am - 9pm)
2. Lester Beach- West Shore
Lester Beach is actually located in the D.L. Bliss State Park on the West Shore. This beautiful beach has a lagoon-like swimming area, restrooms with running water, and tons of sand and sun. To access the beach, drive to D.L. Bliss on Highway 89 and through the park and campground. Parking for the beach is at the bottom of the hill by the water, but spots are limited. Kayaks, paddle board and small craft launching is allowed here.
Hot Tip: Overflow parking for the beach is available a few miles from the campground. If you have to park in overflow parking, you can unload all your gear on the beach first.
Contact: Park Office: (530) 525-7277
3. Baldwin Beach - South Lake Tahoe
Within kayaking distance of Emerald Bay, Baldwin Beach is one of the nicest on the South Shore and perfect for families granting easy access from the parking lot to the sand and Lake Tahoe. This is a large beach - over half a mile long - which backs up to a meadow and great views of Mount Tallac. The water here warms up fairly fast from the gentle slope of this beach. Dogs are not allowed on this beach and there is a parking fee.
Hot Tip: There is not a lot of shade at Baldwin, so bring along a shade structure or an umbrella.
Contact: Park Office: (530) 543-2600
4. Kiva Beach - South Lake Tahoe
If you want to bring your best friend to Lake Tahoe, check out the dog friendly Kiva Beach (near Baldwin Beach). Here dogs can swim off-leash, but they need to be leashed on the beach. Another good thing about Kiva is that there is FREE Parking. There are no bathrooms (only portable potties), but the good thing about that is this beach is usually less crowded than others!
Hot Tip: The swimming areas at Kiva are some of the best and deepest at the lake.
Contact:Park Office: (530) 543-2600
5. Secret Cove* - Glenbrook
There is a reason why Secret Cove is tucked away from prying eyes on the East Shore. This beach is popular for local Naturists as well as acceptable for going Au Naturelle (ie. *a bit of nudity) - so consider this if you're bringing the kids along... The beach is one of the most beautiful on Lake Tahoe, and can be accessed by parking in a small lot about 3/4 of a mile south of Chimney Beach. You then walk about 3/4 of a mile along a forested path to the beach. So once you are there, you might as well stay all day. There are plenty of semi-private spots to lay down on a towel, the cove is wonderful for swimming.
Hot Tip: If you like to snorkel, the rock areas around Secret Cove are perfect for checking out life under Tahoe's waters.
Contact: Highway 28, Incline Village, NV 89452
6. Pope Beach - South Lake Tahoe
Pope Beach is located right at Camp Richardson on the South Shore of Lake Tahoe and is popular all year long. There is a Parking fee, and no dogs are allowed, but this beach is really nice for picnics, paddle boarding, kayaking and the whole gamut of water craft really. There is a boat launch as well. Pope has a tons of pine trees that make for good shade, but watch out for ones dropping from the trees or where you step (ankle roller).
Hot Tip: The Beacon Bar & Grill is located right on the beach if you're in the mood for happy hour (including some great beer on tap), good food, and some Live Music. BTW: Live music is performed right on the beach here during the summer.
Contact: Highway 89, South Lake Tahoe, CA | (530) 543-2600
7. Vikingsholm - South Lake Tahoe
This beach is actually located in the Emerald Bay State Park, but is located right in front of the Vikingsholm Castle at the bottom of the Vikingsholm Trail that is accessed by Highway 89. Park at the Vikingsholm parking lot and hike down one mile to the water. From this small beach you will have views of the castle, Emerald Bay, Fannette Island and its tea house.
Hot Tip: You are not allowed to swim to Fannette Island from the beach, but you can kayak or paddle board to the island. Watch out for the boat traffic, it's very popular here in the summer.
Contact: Hwy 89 at Emerald Bay State Park, South Lake Tahoe, CA | (530) 543-2600
8. Hidden Beach - North Lake Tahoe
You can't really see Hidden Beach unless you park somewhere on Highway 28 near Incline Village and look over the guard rail. This small, but relatively empty beach, is usually accessed by locals who can find parking on the side of the road and walk down the various trails above the beach. If you can find parking early in the day, this beach is great for snorkeling, sunshine and privacy.
Hot Tip: The best parking for Hidden Beach are near the intersection of Lakeshore Boulevard and Highway 28 in Incline, Village.
Contact: South of Incline Village, NV 89451 | (530) 543-2694
9. Kings Beach State Recreation Area - North Lake Tahoe
Kings Beach is on the North Shore of the lake near the town of Kings Beach, but has an distinct advantage. It gets a lot of winter sun, so it's a nice beach to hang out on during those warmer winter days. Kings Beach also has some great activities including parasailing, kayaking, jet skiing and paddle boarding.
Hot Tip: There are plenty of restaurants and shops near the beach where you can pick up picnic supplies.
Contact: 8318 N Lake Blvd, Kings Beach, CA 96143 | (530) 546-4212
10. Commons Beach - Tahoe City
Commons Beach on the West Shore near Tahoe City is not a typical beach. There is some sand but it has more nice grassy areas where you can enjoy the views and the sun. It's not great for swimming, but smaller children may like the area around the Truckee River inlet. During summer weekends, free live music and food vendors are available during the Concerts at Commons Beach.
Hot Tip: Commons Beach is located very close to Tahoe City's restaurants, bars and shops. It also has a small playground.
Contact: North Lake Blvd, Tahoe City, 96145 | (530) 546-4212